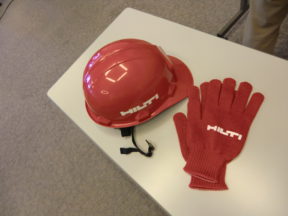 It has been six months since the launch of Project HomeWorks - Habitat's efforts in Tokyo to help the vulnerable through improving the living environment. The support is given to old persons and persons with disability who are unable to clean their houses on their own and who have difficulties to maintain the living environment safe and sanity. Habitat volunteers help them through cleaning, repair work, and paying friendly visits regularly.
 One of our partner organizations, Tsukuroi Tokyo Fund, came to Habitat one day and asked if we can help repair their shelters that had rain leak from the ceiling and a very steep stairs without safe handrails. These shelters are temporary home for those who have been living on streets to get rest physically and mentally and stay while proceeding step by step until they find a permanent home – usually an apartment flat for rent.
---
Hilti Japan had supported Habitat, utilizing its technical skills and knowledge, in the work for Tohoku Disaster Response program and through giving safety seminars for student volunteers who would go abroad for Habitat's build program. This September, Hilti Japan once again joined hands with Habitat to enhance its support through the repair work for one of the shelters.
 The repair work involved making the inner walls more sound resistant, installing hand rails to the stairs, and installing safety railing to the windows on the second floor. Twelve Hilti volunteers, some of whom used their technical skills fully, worked with a professional carpenter and finished all the tasks with such a strong team work and in a very friendly atmosphere.

Their efforts made it possible to make the shelters safer place to live for the current residents and future residents who have determined to leave the streets and rebuild their lives. "I have a bad leg and it's now so much easier to climb the stairs with the handrails" said one of the residents living on the second floor.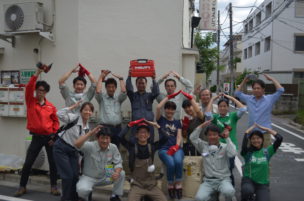 ---
Volunteers' power is essential to Project HomeWorks. We will continue working with our strong corporate supporters and volunteers to improve the home environment for those in need, in order to realize our mission of "a world where everyone has a decent place to live."