Project HomeWorks
Protecting existing homes: supporting a safe and secure living environment
Japan's aging society began in the 1970s which was later accelerated by the declining birthrate and evolved into a "super-aging society" by 2007 with the aging rate exceeding 21% of the total population. At the same time, single-person households have also continued to increase. 27.4%, or more than one in four households, consist of the elderly living alone. Besides, elderly couples with no children or grandchildren make up 32.3% of households. Combined, 59.7% of households only have elderly people. On the other hand, relationships among residents are weakening due to the changing local communities. (Source: Ministry of Health, Labor and Welfare "National Livelihood Survey ")
Some people are having to live without family members or friends nearby whom they can ask for help when in need. Habitat collaborates with local welfare offices, social welfare councils, health centers, and other organizations that work on local welfare and health initiatives to help improve the living conditions of the elderly and disabled people (home partners).
Habitat initiatives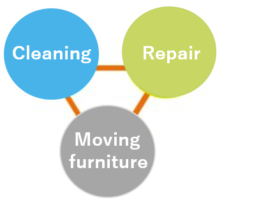 Just as "clothing, food, and shelter" are considered key rights to a decent standard of living, a sufficient diet and rest are essential for a healthy life. Habitat is working to protect a safe living environment by providing services such as cleaning, moving heavy furniture to secure flows for daily living activities, and repairing broken furniture. We also deliver daily necessities such as bedding as needed. Deterioration of bedding is observed in living environments that need improvement. Maintaining bedding hygiene is essential for healthy sleep.
Partners supported by Habitat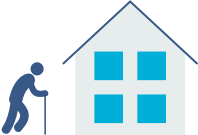 Home partners that Habitat supports are primarily people who have difficulty accessing private services, eligible to receive welfare and other public assistance, and need improving their living conditions.
Partners who support Habitat
To "protect existing homes", Habitat provides cleaning, repair, and bedding replacement free of charge to home partners who need to improve their living. Our ability to continue these services is enabled by the support of our volunteer partners. Additionally, charitable donations from companies, organizations, and individuals contribute to sourcing equipment needed for our activities and bedding exchanges.
Join Project HomeWorks!
Your support enables us to offer housing support for those vulnerable in need. Volunteers help improve the housing conditions but they also give a sense of connection. Our home partners are encouraged to find their social connections and to strengthen their self-reliance. Please join Habitat Japan Project HomeWorks to extend our helping hands for those people in need of decent homes.
Facing difficulties in finding housing
While the increasing number of abandoned houses is being addressed as a social issue, there are still people who are facing difficulties in finding a place to live. Those without stable income, such as the elderly and disabled are facing difficulties. They are refused showings of properties when looking for rental properties, and should they be able to view properties, they often do not meet the qualifications as a tenant. This is because the owners of rental properties are worried about the possibility of tenants' solitary death or problems paying rent.
According to statics, it is said that almost 70% of the real estate owners feel reluctant to rent their properties to the elderly or the disabled. ( Reference: Ministry of Land, Infrastructure and Transport "多様な世帯が安心して暮らせる住まいの確保に向けた当面の取組みについて")

Unstable state of living
Possibility of being unable to pay rent due to unstable monthly income
 Elderly households without relatives nearby
Being forced to move out due to deterioration of their building
Not having a stable place to live
Living temporarily at friends' place or internet café
Living temporarily in a shelter
Unable to find a place to move into after being ordered to move out
Having lost their place to live
When there is no relative or acquaintance to seek help from, they are forced to live on the street or in the park
Connecting those in need with new housings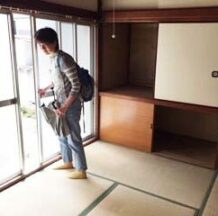 Habitat Japan helps people facing difficulties secure new housings for them in various ways such as accompanying them to real estate agencies and house viewings and helping them move into new housing. To do so, it is crucial to establish a network with housing assistance organizations, local communities, and real estate agencies to get the necessary information. Housing is a fundamental right needed to maintain a standard of living. Organizations that provide assistance to those who need help in securing housing are designated as "housing assistance organizations (居住支援法人)" in order to protect the right to secure housing. Habitat Japan is accredited by the Tokyo Metropolitan Government as a "housing assistance organization". We also work as a member of the "Housing First Tokyo Project"; a consortium that helps the lives of people who have lost places to live, and people with mental illnesses living on streets. We work with the other organizations to provide appropriate services to those in need and to promote understandings on this issue.