Project HomeWorks: Volunteer Program
Project HomeWorks is Habitat Japan's local volunteer program where we work with vulnerable persons and families such as the elderly, disabled, and single-parent families who need help to rehabilitate their homes into a safe and sanitary state. Many of the vulnerable individuals we support through Project HomeWorks typically have little financial means and/or social support, as well as mobility issues that make it difficult to care for themselves, let alone their homes. 
During a Project HomeWorks session, we work with volunteers to make homes safer by decluttering items. Homes are also made cleaner to improve the health and well-being of our vulnerable persons and families. 
Due to the COVID-19 pandemic, we ask all the volunteers to read and agree to the following notes, guidelines, and Safeguarding to join our volunteer sessions. 
Upcoming Volunteer Sessions:
To find more details, please click the following sessions you are interested in joining.
After applying, a mail will be sent to you from phw@habitatjp.org. Please ensure that you can receive emails from this address. If you haven't received a response within 5 business days, please call the Habitat Japan office (03-6709-8780).
For corporate and group volunteer teams, please send a query to info@habitatjp.org.
What to expect: 
Project HomeWorks sessions typically are half-day sessions starting either in the morning or afternoon. Please find more details from each session's site linked above.
The minimum age for volunteers is 18 years old on the date of the session and volunteers must agree to Habitat Japan's "Release and Waiver of Liability" , and "Safeguarding" and submit the virtually signed waiver by email prior to the volunteer session day.

 

Volunteers will typically be split into working teams of 2 to 4 people per house.

Habitat staff will conduct a safety briefing at the start of each session.

Scope of work carried out by volunteers including; sorting, de-cluttering & disposal of items, Intensive cleaning of rooms, kitchens & bathrooms, and minor repairs such as furniture.
Fees, Items to bring, Insurance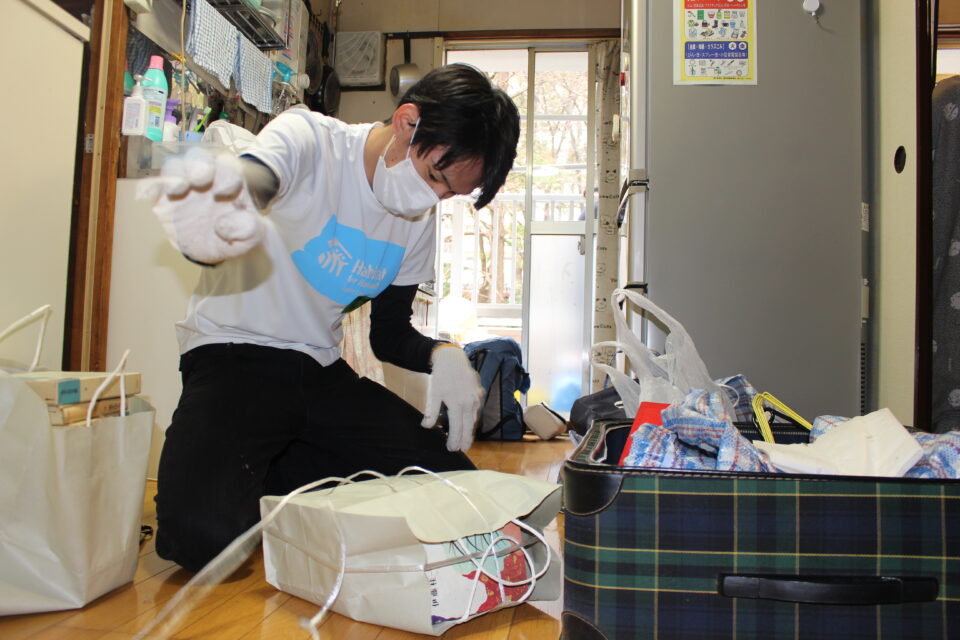 [Participation Fees]
¥1,000 (Except Habitat Japan current campus chapter members)
*This is used for your volunteer insurance and protection gear and other items for Project HomeWorks
[Items to bring]
Please wear a mask before arriving at meeting places
Working clothes you don't mind getting dirty; recommended long sleeve shirt and long trousers
Caps and towels to cover your head 
Bottled water
【Volunteer Insurance】
Since Habitat Japan has subscribed to volunteer insurance, everyone who participates in the activity is covered by this insurance. This fee is included in your participation fee. In order to cover with insurance, please be sure to enter your name, address, and contact address, in the application form below.

【Safegurding】
Habitat Japan is implementing a safeguarding effort to ensure the safety of all participants in our activities. "Introduction to Safeguarding" will be sent separately to all volunteers. You can also read "Introduction to Safeguarding" at the following link.
【Change of Schedule or Cancellation of Activities】
There is a possibility that the activity will be suddenly changed or canceled due to the sudden health condition of our beneficiaries. Please note that in some cases, we may be notified of the cancellation on the day of the activity. Thank you for your understanding.
【Allergies】
Depending on our beneficiary's home conditions, there may be pets or animals, or you may feel dusty. If you have any allergies to animals or dust, please let us know in advance.
---
Habitat Japan Domestic Volunteer Guidelines
【Guideline Principle】
Habitat Japan proposes to adhere to government recommendations and to stop operations when and if stricter COVID restrictions such as "state of emergency" are advised by the government. The volunteers who agree to join Habitat Japan domestic volunteer activities understand and agree to the following guidelines and the volunteer waiver and will sign the volunteer waiver.
【Protocols to Join Volunteer Activities】
Volunteers have none of the following symptoms: fever (37.5℃ or above on volunteer day) dry cough, fever, shortness of breath, or other flu-like symptoms
Volunteers must communicate with their family members and housemates to live with to ask for their understanding for him/her to join Habitat Japan volunteer activities.
Volunteers are advised to follow the corporate/school guidelines of each volunteer belongs to if those guidelines restrict for them to join any social activities including Habitat Japan volunteer
【Volunteer Criteria】
Volunteers must read and agree with Habitat Japan's safeguarding and code of conduct and sign the domestic volunteer waiver and written oath to join Habitat Japan volunteer activities. 
Volunteers must be 18 years old or above.
All volunteers must abide by the guidelines set forth by the school, organization, or company to which they belong, and refrain from participating in Habitat activities if they do not meet those guidelines.
If a volunteer has a roommate, please inform the roommate in advance of the volunteer's participation in Habitat activities and obtain the roommate's understanding before participating in the activities.
Anyone who is at increased risk of severe illness from the virus that causes COVID-19 refrains from joining volunteer activities. 
【At work site】
In order to keep the social distancing, the minimum no. of staff and volunteers working at the worksite
Volunteers must wear a mask at the worksite
Volunteers sanitize their hands if possible, with hand soap and/or alcohol sanitizers before entering the worksite
Volunteers wear gloves(cloth, latex, plastic, etc) during the volunteer activities
Volunteers try to keep at least a 1-meter physical distance constantly including during any activities
Practice good respiratory hygiene on the work site at all times by asking partners to open windows and doors
Volunteers try to leave the work site no longer than 3 hours. If they need to stay more than 3 hours to complete the activity, Habitat Japan needs to ask all the volunteers and home partners for consent to extend the volunteer hours prior to the activities.
---