Project HomeWorks
The need for decent, affordable housing is not something that exists outside of Japan. In 2016, the number of people who received welfare assistance hit a record high of more than 1.63 million people. Half of them are more than 65 years old and 90 percent lives alone. However, housing issues not only affect the elderly but also single parent families, people with physical disabilities and low-income youth.  
Very poor households struggle to pay rent and face the risk of losing their homes. Their living conditions may deteriorate since they have no means for upkeep. Habitat for Humanity Japan helps these households to resolve their housing issues through connecting them with experts for advice, improving their living conditions and other means.
Housing issues in Japan
Phrases such as "irregular employment" and "working poor" are hardly used these days. However, employment issues are often linked to housing issues. When people lose their jobs, they may face difficulties in paying rent or they have to move out from the company dormitories where they live. Without a secure job, it is not easy for them to find a new home. In such cases, they may stay with relatives or friends, or spend the night at an internet café or 24-hour restaurant. Sleeping on the streets is the last option.
There are other issues affecting those who are known as the "housing poor" in Japan. Losing one's home can become an obstacle in looking for a new job as resumes won't include a permanent home address. A stable home opens the door to better employment opportunities. There are also the elderly and single parents who have jobs that pay minimum wages but are unable to rent rooms because of a perceived lack of stability by the landlord.

Insecure Life
Live in company dormitory.
Monthly salary is not stable to pay for rent.
Unable to move into new apartment because of age or single parent status.
Insecure home
by moving place to place
Stay at friend's home.
Living in shelter for the homeless.
Stay the night at internet café or 24-hour restaurant.
Being homeless
Sleep in the open air such as streets or public parks.
How we help the "housing poor"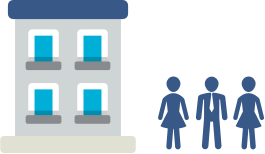 Habitat helps those who are in need of decent, affordable housing by providing necessary information to attain a secure home and supporting them in moving into a new home by partnering with different non-profit and social services organizations.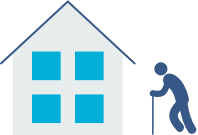 To improve the living conditions and safety of vulnerable households, Habitat mobilizes volunteers to make minor repairs and/or provide these households with a tool that prevents furniture from overturning in an earthquake.

After providing the necessary assistance to to improve the living environment, Habitat continues to enhance the quality of their lives through livelihood skills training and community networking events.
                                                                                                     Whether you provide financial support or voluntary labor,                                                                                                    your contribution helps families create a better life for themselves.
Please support Project HomeWorks