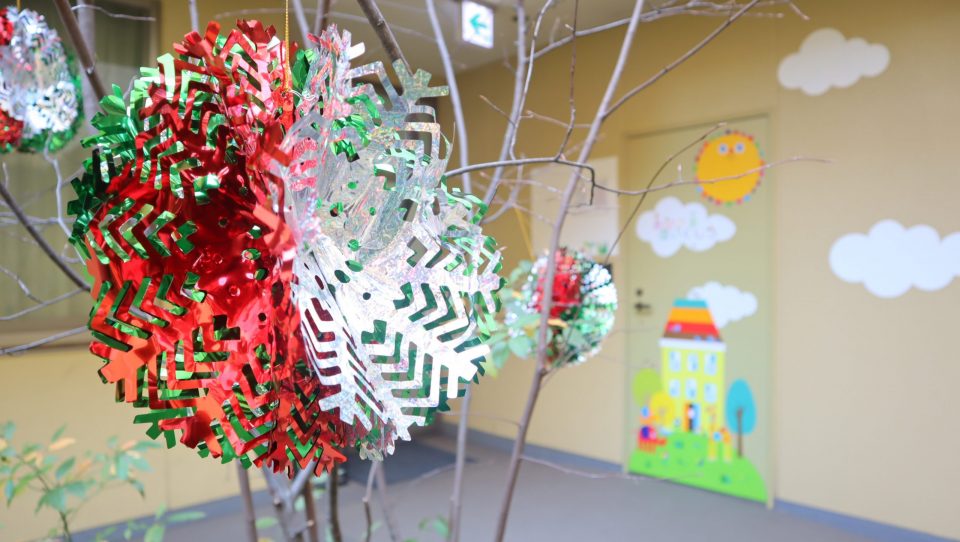 "The kids who have spent time here often visit us after they have left the facility. One child told us, 'This is my home.'" says one of the facility staff members for a Mother and Child shelter, located in the Kanagawa Prefecture. In December 2021, with the support of SC Johnson, Habitat Japan helped make repairs in the shelter. The facility, which opened after World War II, is currently operated as a result of Child Welfare Law. The shelter serves as a home for women who cannot care for their children without assistance because of issues such as domestic violence or financial hardship.
The shelter has twenty-three rooms, three of which are emergency waiting rooms, surrounding a courtyard. A staff member commented, "When we rebuilt the facility, we spent many hours discussing what kind of rooms we would build." All rooms are equipped with one living space and two six-tatami mat rooms that face south, making the unit warm and comfortable even in winter. Before Christmas, the trees in the courtyard were decorated, and heartwarming paintings were displayed around the facility, giving a sense of cheer.
Families stay in the shelter for two years, during which time they receive the necessary support to prepare for a new life. A staff member remarked, "The good thing about the facility is that the children can live with their mothers, enjoy events together, and create memories that make them feel loved by their mothers and other adults they can trust." In some cases, the mother and children need to live apart. It is essential for child development to have people who care about them and whom they can rely on, especially when separated from their parents.
A mother and her child lived in the room that Habitat repaired for about eight years while the facility was being rebuilt. The mother suffered from mental illness and could not care for her child, so the staff, visiting nurses, and other helpers supported them as needed. After the mother was hospitalized, the family had to live apart in nearby facilities. When it came time for the family to move out, significant repairs had to be made, which are typically borne by the current occupants. The walls had become yellow, and the floor had holes. Unfortunately, it was financially difficult for the mother to restore the unit, and it was too much for the facility to bear, and she doubted she could raise the funds needed. Habitat was able to provide the repairs as a result of its collaboration with SC Johnson.
With the support of SC Johnson, Habitat has repaired five facilities since April 2021. Habitat aims to repair another three facilities with their sponsorship by the end of May. A safe and decent home is a foundation from which to build strength, stability, and self-reliance. Habitat thanks SC Johnson for supporting Habitat's shelter repairs which aim to build a bridge to a better future for mothers and children in need of support.
---
About SC Johnson
Founded in 1886 and headquartered in Racine, Wisconsin USA, SC Johnson believes that a more sustainable, healthier and transparent world that inspires people and creates opportunities isn't just possible – it's our responsibility.
A heritage of innovation and bold, transparent decisions is why our high-quality products and iconic brands – including OFF!® Raid®, Glade®, Windex®, Scrubbing Bubbles®, Ziploc®, Mrs. Meyers®, method®, Autan®, Baygon®, Mr Muscle®, Duck®, Lysoform® and more – are in homes, schools and businesses in virtually every country worldwide.
As a global, purpose-led company, we are committed to making the world a better place today and for future generations. That means relentlessly bringing our expertise in science, innovation and partnerships to bear on some of the world's most pressing environmental and health issues like reducing plastic waste and eradicating malaria. Around the world, we use our resources to unlock greater economic and educational opportunities for people and communities where access may be limited, but curiosity and potential are limitless.
See how SC Johnson is a Family Company At Work For a Better World by visiting scjohnson.com or joining us on Facebook, Twitter, LinkedIn, Instagram and YouTube.