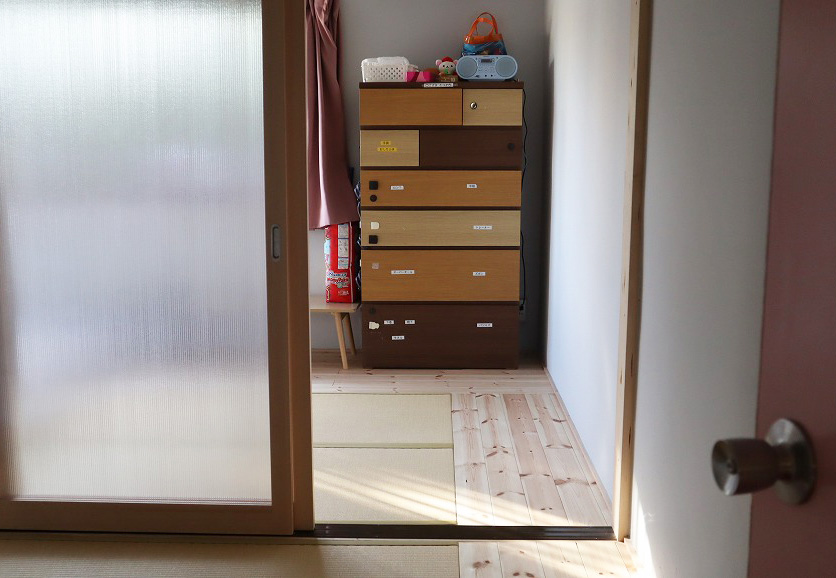 "The place is now generally brighter." says Mr. Kameyama, a staff member of the Yokohama Kunmouin, an orphanage for children living with disabilities, located in Yokohama, Kanagawa Prefecture. This orphanage is one of the facilities that Habitat Japan has been helping repair since this April through the support of SC Johnson. The 52-year-old facility is built on a slope. The third floor is at the ground level, while the first and second floors are below ground, making the corridors and rooms on the north side particularly dark. The facility needed to be repaired to ensure a safer and more comfortable place for the children living in it.
In response to these needs, Habitat replaced all the fluorescent lights in the residential building with energy-saving LEDs, and installed covers on the exposed lights. In addition, Habitat repaired seven deteriorated rooms for the children. The tatami mats, which were particularly damaged from years of use, were replaced with new mats so that the children can sleep more comfortably on their futon mats. Wood floors were partially used around the walls where desks and storage shelves are placed so that they could withstand the weight and easily move furniture.
A room is shared by two children with a partition in the middle to divide the space. Natural light is hard to reach the side of the room not facing the window. To make the room brighter, the partitions were replaced with three sets of movable transparent sliding doors. When Ms. Ito, the director of the facility, saw the rooms after the repair work, she was surprised, "It looks like a new room." She added that the children were very happy to move into their newly repaired rooms.
On November 12, fourteen employees of SC Johnson joined as volunteers to complete the remaining work of replacing the deteriorated window screens and the window films. To practice safe physical distancing, the volunteers were divided into two groups—one in the morning and one in the afternoon. Despite finding it difficult to replace the window films, all the teams worked tirelessly to finish the windows. In the afternoon, the second team replaced the window screens. One of the volunteers shared that he replaces the window screens every year in his own home. With this volunteer's experience, the rest of the tasks went smoothly and were done ahead of schedule.
It was an opportunity for SC Johnson people to volunteer alongside Habitat and get a glimpse into the daily lives of the children who live at the facility which was a great team-building experience for everyone. 
The facility still needs additional repair, although it is well maintained by the staff. Habitat continues to support Yokohama Kunmouin through maintenance and repair, in partnership with SC Johnson. Habitat Japan is grateful for the time and effort given by the volunteers from SC Johnson, making it possible to provide safer and more decent places for vulnerable children.