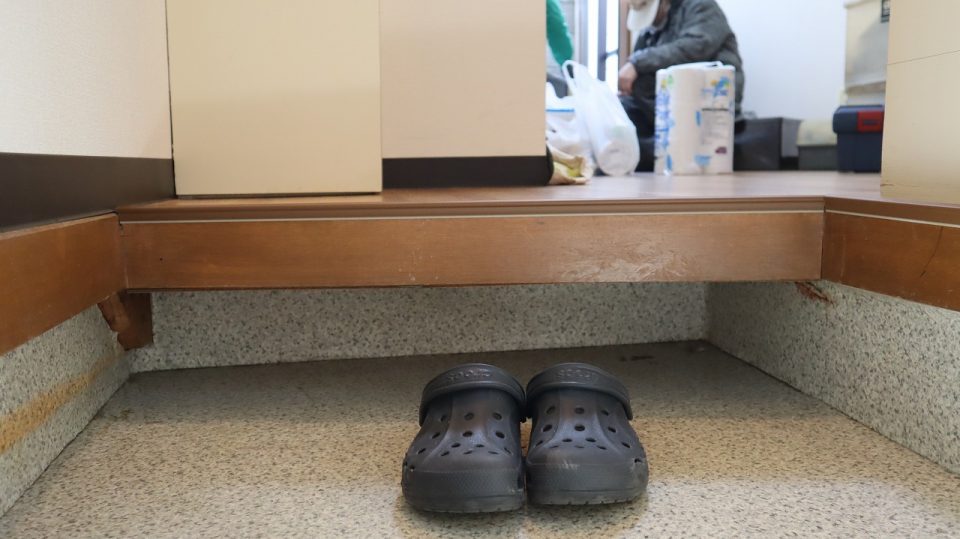 "Since my former room was located on the 4th floor, I had to take a pause at least four times to get home. That's why I wanted to move to a place on the first floor," said Mr. Yamada (pseudonym), in his late 60s. He finally moved from the shelter room on the 4th floor he had lived in for 7 years to a new apartment where his room was located on the first floor.
He used to work as a construction worker until he was in his late 30s. He was unfortunately involved in an accident and injured his back. The trauma from this incident and also his back pain prevented him from continuing to work as a construction worker. Losing his job, he also lost his place to live and became homeless eventually. He has earned a little money from his handicrafts since then while he has stayed in several parks in Tokyo for nearly 10 years. 
7 years ago, he was ordered out of the park where he had lived for a long time and he started living in a homeless shelter in Tokyo and also began to live on welfare. He became no longer worried about where to sleep and what to eat. However, he gradually hesitated to go outside from his shelter room with the space of only two tatami mats (3.24㎡) located on the 4th floor, which shut him away from society. 
He once attempted to move to an apartment on the advice of the municipal office 5 years ago. He applied for public housing that is assigned by lottery, but he lost for 2 years.  With the help of the shelter, he finally reached Habitat Japan to ask for help. "I would keep living in the shelter for another 3 years without Habitat's support," said Mr. Yamada, saying "thank you" again and again to our staff. 
It is not difficult to find an apartment for many people as long as you can go online, but for someone like Mr. Yamada who has no internet access, it is not necessarily easy. Welfare recipients are often refused and so are the elderly people. It is very fortunate to find a "good" real estate agency and it is more fortunate to find a decent place to meet conditions. For example, to Mr. Yamada,  a 2nd-floor room located on the steep hill and a room with a shared bathroom were introduced but those did not meet his requests.  A decent home is a foundation for everyone to build strength, stability, and self-reliance so Habitat Japan continues to help find an apartment so that our home partners can ensure safety and security.
Giving instructions on how to use IH cooking heater

Lecturing how to hang curtains
Habitat staff visited Mr. Yamada on the day he moved in. "Do you think I should visit neighbors?" He seemed to be nervous to start to live in a new place. He asked our staff to check the dumpsite and garbage collection day with him, saying "I do not want to trouble my neighbors." He also said, "I am excited to go outside without being troubled by the stairs anymore."  He looked awkward but still looked pleased to have his own home for the first time in near 20 years. 
Habitat Japan continues our support to Mr. Yamada for a while through our initiative of Project HomeWorks. Your sincere donation enables us to continue to help those in need of a decent place to live. Through Project HomeWorks, Habitat Japan helps those who are looking for a new place to live and/or need to upgrade their living environment. To support our Project HomeWorks, please click here.