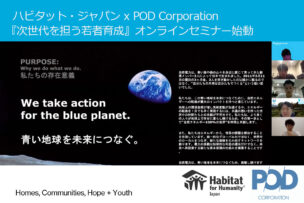 Here in Japan, our youth supporters play a vital role in fulfilling our mission of Building Homes, Communities, and Hope. From Hokkaido to Kumamoto, there are now 52 campus chapters nationwide through which university students advocate and support Habitat for Humanity.
At Habitat, we provide our youth supporters with participating opportunities such as
"Global Village" - a program to build homes in different regions around the world, and
"Project HomeWorks" - a way to help improve local housing and social issues.
We also actively work with our youth community through training courses based on a variety of themes.
As precautionary measures to help prevent the spread of Covid-19, we are currently suspending all volunteering and campus chapter activities. Meanwhile, with the collaboration of POD Corporation, an avid supporter of Habitat, we are taking this time to organize Youth Leadership Seminars online where members of campus chapters can participate from their homes.
We dedicate the first half of each seminar to inspiration. Selected guest speakers share their local/global success stories and their take on being a leader. As the first of our 6-part seminar, we invited Dr. Hitoshi Tsuboi, Graduate School Of Management Globis University, to speak with the representatives from each campus chapter on "Leadership." Mr. Tsuboi graciously shared his views on the topic from different angles: academic point of view, trend/perception in Japan, and essential contributing factors in practicing leadership.
In the second half of the seminar, we focus on open discussion. We encourage these seminars to be a valuable opportunity for students to exchange their opinions directly with the speaker. To our delight, we have witnessed candid dialogues among participants on a wide range of issues. The students took the opportunity to ask questions relating to the topic, such as "what are the career trends?" or "how can management plans encourage growth?" as well as share their daily concerns they face as members of the campus chapter.
We have received numerous positive feedback from our participants. Among others:
- I now understand the importance of involving others instead of trying to tackle the problem alone.
- I realize as a woman, marriage, and motherhood should not be the reason to hold me back from pursuing a career I desire.
Under the slogan " Our youth is a changemaker to create a better world", Habitat for Humanity will continue to inspire leadership to students through local and overseas volunteering opportunities and more leadership training programs.
We would like to take this opportunity to thank all of our speakers as well as POD Corporation for making the seminars possible.
About POD Corporation:
Create above and beyond opportunities. Building a brand, seeking tangible results, and giving back build the foundation of success.
Based in Tokyo, Los Angeles, and New York, POD seeks to create new essentials through partnering with clients in sports, performance & arts, and entrepreneurial businesses.
For more information: https://www.pod-corp.com/