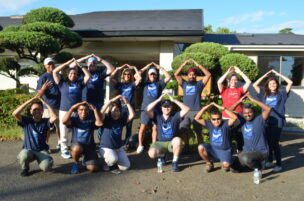 With help from Bank of America Merrill Lynch since 2016, it has been 4 years since Habitat for Humanity Japan conducted minor repair assistance at Bott Memorial Home, an orphanage located in Tokyo. At Bott Memorial Home, there are children ranging from 2 to 18 who had difficulties living with their family because of issues like parents' divorce or illness, abuse, or inadequate education. For these children, they consider this place a "home" and Habitat supports these facilities that become their "home."
On October 5th, 14 members from Bank of America Merrill Lynch participated to help paint the dining room and plant a lawn in the backyard. This building that was built in 1957 has been well preserved and cleaned by the staff, however with deterioration, there must be some repair along the way. This year, we repainted all the walls of the dining room where children get together to eat. In order for these children to not only gather to eat, sing while playing the organ and to play with each other, this dining room becomes an essential part of their daily life. There were volunteers who have participated 2 or even 3 years in a row that painted with a practiced hand and another team helped set up a new lawn in the back yard for children to play.
While the volunteers were working, the children gathered and asked "What are you guys doing? Can I do it?" The volunteers asked kindly to the children "Will you help water the grass?" and worked together. For lunch, there was a BBQ party with all the children living in this home. We had the volunteers help prepare for this lunch as well. A diverse group of volunteers from Japan, US, UK, India, Iran, Australia, and Thailand gathered for a delightful lunch, including children that spoke to them in English. The children kindly asked the volunteers "Which country are you from? What is your favorite sport" and made them all smile. There are children who cannot live with their family for various reasons. In order for these children to live safe and sound, it is one of Habitat's important work to improve and support their living environments. We are truly grateful for the support we are receiving from Bank of America Merrill Lynch.