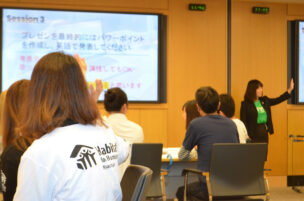 "Let's enjoy ourselves today! The processes you experience today are important and it would be great if you could share your opinions with us and each other!"
With this guidance shared, youth leader workshops took place in Japan and Singapore on June 7th with the support of Goldman Sachs volunteers as part of the their Community TeamWorks (CTW) volunteer program.
Habitat believes that next-generation young leaders enable us to sustain Habitat's program and its vision, "a world where everyone has a decent place to live." Habitat encourages young people to join programs worldwide, and we organize these groups of students into campus chapters.
Campus chapters in the Asia Pacific region are located in Japan, Singapore, South Korea, The Philippines, China and Hong Kong. Habitat Japan currently has 44 campus chapters nationwide, which is the largest network in the region. In addition to participating in the Global Village program, campus chapters are responsible for fundraising and advocating Habitat's vision in their community. Habitat is committed to nurturing young leaders for today and for the future by providing a variety of learning opportunities.
The first youth leader workshop for campus chapters was held in July 2014 with support from Goldman Sachs volunteers. Since then, youth leader workshops have run every year with financial and volunteer support from Goldman Sachs. This June, in a new initiative, workshops were held simultaneously in Japan and Singapore.
A total of thirty students gathered at each site, and worked together with guidance from CTW volunteers. The teams discussed issues such as how campus chapters could help solve social problems in their country, and what skills they would need to do so. To conclude the workshop, each team presented their views in English via a webcast link between Tokyo and Singapore. While making their presentations, the students received practical advice from CTW volunteers on content and delivery. It was great to see the Japanese campus chapter presenting confidently in English, alongside their Singaporean counterparts.
One of the participants, Ms. Misaki Ito, a vice team captain from Waseda University campus chapter said: "I had an opportunity to think about where to stand as a leader of the group and understand the sense of distance between its members. Students in Japan and Singapore are surrounded by different environments and I could also see the differences in the details of the presentations between them. It inspired me and really helped me to grow."
Participating students said that the workshops were very meaningful and helped them develop their leadership skills.