Imagine that your toilet is broken and you are not able to flush it. Across the globe, as many as 2.3 billion people, or 1 in 3, do not have clean and safe toilets. Moreover, a study conducted in 2017 found that as many as 820 million have no access to even a basic toilet facility, leaving them with no choice but to relieve themselves in open areas.
~・~・~・~・~・~・~・~・~・~・~・~・~・~・~・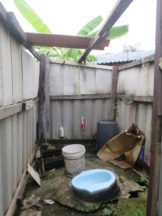 Ensuring access to clean toilets and water is one of the top priorities of our Sustainable Development Goals that were approved by the United Nations Summit in September 2015 as a target that the international community must achieve by 2030. As a housing NGO, Habitat has built sanitary facilities across the world, with India as one of Habitats ongoing commitments. The organization's continued effort to help people secure houses as the basis for a decent life includes working to make sure everyone has access to sanitary toilets.
India is one country struggling with a widespread lack of clean water and adequate public hygiene. 40% of the population, or approximately 520 million people, need to relieve themselves in public areas. This can lead to serious health issues, such as the spreading of diseases like cholera, diarrhea, or red fever through food contamination. In response to this situation, the Indian government launched a campaign in 2014 called "Swachh Bharat" (Clean India), a program that subsidizes nationwide toilet installation to encourage the widespread use of toilets. The goal is to completely eliminate public defecation and urination by October 2019. However, this program faces enormous obstacles; nearly 80% of the population is Hindu and observes a strict separation between cleanliness and dirtiness, and as a result, resist the use of toilets. The majority of toilets that do exist in India are vault toilets, which poses another difficulty. They suffer from a lack of regular maintenance and waste disposal, which prevents their continuous usage.
To help address these factors, Habitat launched a new toilet installation project in 2015. In addition to installing and periodically inspecting toilets, Habitat promotes their use through an education plan designed to create awareness and permanently change behaviors. To further expand these initiatives, Habitat Japan has collaborated with LIXIL, Co. which launched the "Toilets for All" Initiative in 2018, to support the installation of an affordable toilet model called SATO that the company created for use in developing nations. Since April 2018, they have worked together to install the model in India and Myanmar as part of LIXIL's project, which aimed to install 360 toilets in India and support their regular use.
The benefits of the SATO toilet include: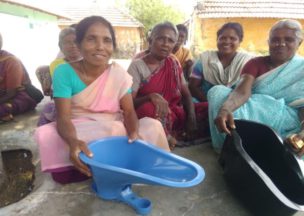 - Simple product that makes installation easy
- Easily rinsed with as little as 200ml of water
- Represses flies and other insects that can spread germs and disease
- Very affordable at only a few US dollars each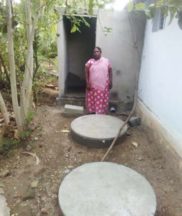 The portable toilet model that was introduced in India features two toilet pans that can be switched with just one lever, a model which the Indian government recommends. This system makes it easier for people to remove and dispose of the contents. However, the contents will automatically decomposed even if left for extended periods of time. This model also addresses the concerns of Hindu families by improving the sanitation and maintenance of toilets.
Six months after the initial installations were completed in April 2018, local staff members held community meetings in three different area neighborhoods and visited each household, advocating the necessity of having clean toilets and the numerous benefits of the SATO model. As a result of persistent endorsement, "Toilets for All" initiative has resulted in the installation of 360 SATO toilets to help ensure residents have secure, safe and decent homes.
LIXIL's "Toilets for All" Initiative has been implemented in many countries across Asia and Africa. Habitat has also worked with LIXIL in Myanmar and donated 6,315 SATO toilets to the government of Bago, where Habitat has been building housing projects. We thank LIXIL for supporting Habitat's initiatives of building strength, stability and self-reliance to achieve a better life for individuals and families in need. Everyone should have sanitary toilets in order to have a decent life.