Habitat Japan was established in 2001 and registered as an NPO in 2003. On November 28th, the organization celebrated its 15th anniversary with an event that highlighted Habitat Japan's milestones and the integral volunteers, donors, and supporters that have contributed to the NGO's efforts since its founding. Nearly 150 people gathered not only to commemorate what Habitat Japan has achieved, but also to help sustain its mission going forward. The theme, "Building Homes, Changing Lives", introduced many stories of change that were made possible because of generous and committed supporters.
One of the highlights of the evening was our guest speaker, Ms. Junko Yagi, who shared her inspiring story of survival, recovery and transformation. Junko is a survivor of the Great East Japan Earthquake and the tsunami that followed. With the support of Habitat, her parent's home, which was the only one left standing in the town of Onagawa, Miyagi prefecture, was revitalized as a community space called "YumeHouse". Through this venue, Junko has not only provided a gathering space for locals, volunteers, and tourists to get together, but also employment for area residents. As a result, she has built a better community for all.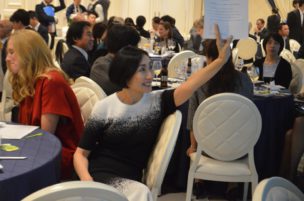 Housing needs around the world remain widespread and extensive. One of the principal issues to be addressed as part of Habitat's Sustainable Development Goals is to eliminate inadequate housing issues. Habitat's ability to apply resources towards this effort requires continual support, which will allow us to have a greater impact. We are very fortunate to have donors that have volunteered their time or pledged financial assistance, for which we are very thankful. In particular, we would like to express our great appreciation for our long time supporter, Hilti, as well as Eone Japan, RAWROW and MCM who donated prizes for the raffle we held. The proceeds of this successful raffle will be directly applied to Habitat's initiatives. The well-known singer Yae capped off the evening with several beautifully touching songs, including one in support of Tohoku that was written specifically for the event.
Since its establishment, Habitat Japan has assisted more than 27,000 families with the support of nearly 20,000 volunteers to improve housing, support communities, and provide hope in Japan and abroad. We hope you will continue to join us as a volunteer and a sponsor. With your contributions, we can continue to help create a world where everyone has a decent place to live.
>Click here to see the video of "15 Year Milestones of Habitat Japan"
>Click here to see the video of "Building Homes, Changing Lives"