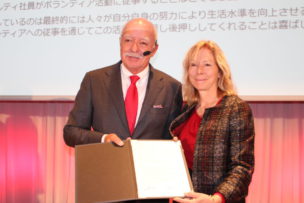 In November 2018, Habitat for Humanity Japan will be commemorating its 15th anniversary from its foundation. One of its strong corporate partners, Hilti Japan, Japanese subsidiary of Hilti Corporation is celebrating its 50th anniversary as well. Hilti Japan has been supporting the projects of Habitat for Humanity in many countries. To commemorate its 50th anniversary, Hilti Japan hosted a memorial ceremony on November 2nd. Cecilia Melin, Chair of Habitat for Humanity Japan, attended the ceremony. With sincere appreciation of the partnership, Habitat for Humanity Japan received a further donations from Michael Hilti, Lifetime Honorary Chairman of the Hilti Foundation.
> website of Hilti Japan 50th Anniversary Campaign [click here] 
> website of Habitat For Humanity Japan 15th Anniversary Campaign [click here] 
Hilti Corporation, headquartered in Liechtenstein, is a global company that develops, manufactures and markets equipment and materials for constructions. The partnership between Hilti and Habitat began from the Hilti employee volunteer participation in Habitat builds in the U.S. in 2006. Having built strong partnership with Habitat, the Hilti Foundation decided to fund Habitat for Humanity Japan's disaster relief program in 2013 which was taking place in the Tohoku regions of Japan after the Great Eastern Japan Earthquake. In addition to the significant project support, Hilti Japan employees visited the project sites of Habitat Japan multiple times to participate in volunteering activities and listen to the voices of the affected families.
The partnership in Japan expanded in 2014 as Hilti Japan started providing construction safety workshops regularly to students who will participate in Global Village Program (Habitat volunteering program to build houses abroad) and donating work gloves to all student volunteers. It has also supported Habitat Japan's domestic housing program, Project HomeWorks, which was initiated in April 2017. With their professional skills and knowledge on construction work, Hilti Japan supported the repair of shelters for homeless people.
With regard to community service, Honorary Chairman Michael Hilti stated that "our goal is not simply to help those who are in distress. We support people in their endeavours to improve their lives by way of their own effort by promoting help for self-help." This vision echoes the mission of Habitat. Habitat Japan is determined to use the support from them for the efforts in Japan to build strength, stability and self-reliance including repairing shelters and improving living standards of elderlies and persons with disability. In partnership with Hilti Japan, we will continuously work to build a foundation in lives of as many people as possible.
We would like to congratulate Hilti Japan's 50th anniversary, and appreciate their great contribution for a better future.