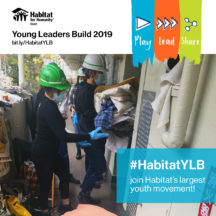 The Habitat for Humanity Young Leaders Build brings together youth from across the Asia-Pacific region to support people and families in need of decent housing. Every young person volunteering, fundraising, raising awareness and adding their voices in support of affordable housing, can help families achieve the strength, stability and self-reliance they need to build better lives for themselves. The movement encourages youth to take the lead and motivate their peers to build homes and communities, on a Habitat build site and/or online through their social networks.
In 2018, Habitat Japan marks 15 years and Habitat Asia Pacific marks 35 years of partnering with families to build strong, stable homes in the Asia-Pacific region. It is with the great support of youth organizations and young leaders that we can draw near to our vision of a world where everyone has a decent place to live.
The 2019 Habitat Young Leaders Build campaign will be launched on International Volunteer Day, December 5, 2018. Young leaders in the region are invited to PLAY, LEAD and SHARE with other youth in Asia-Pacific to help people create better lives for themselves and their families through safe, affordable housing.
Now in its eighth year, the campaign will build on key youth initiatives such as the advocacy grants, the HYLB Leadership Academy, and the Asia and Pacific Builds.
On World Habitat Day, October 1, 2018, we invite youth organizations and individuals to submit project proposals for the 2019 HYLB advocacy grants. The advocacy projects should focus on decent housing, slum upgrading, gender and property rights, disaster resilience, or security of tenure. The deadline for submission is December 5. Winning proposals will receive up to US$1,000 funding to help kickstart the implementation of youth-led advocacy projects. Download the application form.
The HYLB Leadership Academy and toolkit will equip young people with self-leadership skills and enable them to better lead others. Developed in partnership with the Center for Creative Leadership, the 10-module training includes two modules on sustainable communities as an introduction to the United Nations' Sustainable Development Goals. Participants will also learn about the need for decent housing, and identify specific community actions and projects that support their community.
Every young leader who goes through the HYLB Leadership Academy will be certified as a volunteer trainer with greater knowledge and understanding of leadership concepts as well as of the need for decent housing. They can also gain skills to implement projects that build homes and sustainable communities in their own neighborhoods.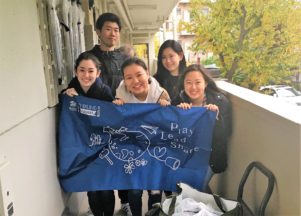 Since its launch in 2016, the HYLB Leadership Academy has trained more than 2,000 young people in Cambodia, Indonesia, India, Nepal and the Philippines. Four HYLB volunteers are now certified trainers, ready to train other young people in various communities in their local languages. For the second year, special volunteer builds will be held as part of the Habitat Young Leaders Build campaign. In March 2019, international volunteers and their local counterparts will contribute their time and labor and help raise funds at the Asia Build in Myanmar and the Pacific Build in Fiji.
The 2019 Habitat Young Leaders Build will culminate in April 2019 with thousands of young people taking part in simultaneous activities across the Asia-Pacific region. These include house construction, school cleaning, fundraising events, and advocating for decent housing on social media.
The 2018 campaign saw a record 4.3 million supporters from 17 countries and one Special Administrative Region in the Asia-Pacific region. Since 2012, over 12.4 million Habitat Young Leaders Build supporters have raised US$6.5 million in funds to help build houses and supported close to 29,000 families to achieve the strength, stability and self-reliance they need to build better lives for themselves.
Join the Habitat Young Leaders Build community on Facebook bit.ly/HabitatYLB. Post on social media with the hashtag #HabitatYLB. Follow on Instagram @HabitatYLB.