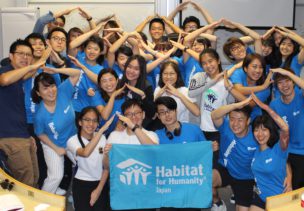 The very first Habitat campus chapter international exchange was held in Singapore from August 3rd and the representative students from Japan and Singapore campus chapters joined the program. Habitat Japan campus chapter has been active for more than 20 years in Japan, but other campus chapters in the Asia pacific region are relatively new, and are working only in Singapore, South Korea and Hong Kong and the Philippines. However, since Habitat Young Leaders Build campaign launched in 2012, Habitat has been working on fostering young leaders in the Asia Pacific region and this time Habitat Japan and Habitat Singapore co-organized the very first exchange program and both campus chapter students joined to learn from each other so that they can enhance their leadership and activities. As the representatives of Habitat Japan campus chapters, 20 students from Tokyo, Osaka, Nagoya and Fukuoka participated in this program.
Total 8 campus chapters work in universities and high schools in Singapore. They work on 1)Volunteer, 2)Advocacy, 3)Fundraising and 4)Education so as Habitat Japan campus chapters. Above all, Singapore chapters focus on Project HomeWorksto help those who are in need of homes with safe and sanitary. Each chapter serves in their local community and mobilizes volunteers almost every weekend. They also raise funds working with their local communities to continue their program and help those in need.
On the first day of the program, Japan and Singapore members introduced their activities. They were willing to ask and answer each question by teams and the students motivated and inspired one another. On the second day, they enjoyed their cultural exchange. Japanese students showed how to wear a yukata, Japanese summer kimono, and they helped Singapore students wear those. Japanese students also demonstrated how to make a uchiwa, Japanese fan, and in return, Singapore students introduced the traditional Singapore game, Kampong. Through the cultural exchange, they learned not only two-country cultures but they also enjoyed learning how different the lives of each student are. There was also a special fundraising session by Mr. Aseem Thakur, founder of Give Asia, the biggest crowd funding website of Singapore. On the third day, the Japanese team visited Fort Silso on the western tip of Sentosa. The fort was used as a prisoner-of-war camp of Japanese invention during the World War II until 1945. It was by a curious coincidence that the team visited on August 6 when the atomic bombs were dropped in Hiroshima. This visit made the entire program even more worthwhile by learning history between two countries and this made them realize once again the importance of this cultural exchange. On the fourth day, Japanese students joined Habitat Singapore Project HomeWorks to help an elderly woman who has a trouble in walking. The team helped clean her home and paint walls. They became aware of those housing problems that are not always visible.
A third-year student at Fukuoka University, Ryo Arai, who participated in Habitat activity for the first time, said, "Our campus chapter was set up only 3 years ago and I still have many things to learn from other chapters, and this Singapore visit was a great opportunity to learn many things from other chapter members. Especially the Project HomeWorks, on the fourth day, made me realize the importance of volunteering no matter where you are. We visited an elderly woman with disability at her house and we helped clean a house, dispose trashes, painting walls, scrubbing floor and setting up bedding. She looked embarrassed at first but at the end of the day, she saw us off with her big smile. It is also noteworthy that the campus chapter students in Singapore are very proactive and I learned about fundraising and recruiting and mobilizing volunteers. Those are not yet common in Japan so it made me wide aware of what we can improve for our activities in Japan. This interaction gave me the huge inspiration and motivated me to develop our campus chapter. I personally study a medicine and this visit gave me an opportunity to see a real program site Habitat for Humanity faces to and this encouraged me to be a doctor who can help no matter who they are and where they are from. This trip helped me to grow not only as a member of chapter but also as a person."
Habitat continues to support the students who are the game changers of the better future for the world.