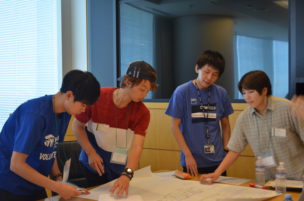 Being a fifth year this year, young leaders who belong to Habitat Japan's campus chapters attended a workshop which took place on June 30th with a support from Goldman Sachs.  88 leaders from a record number of 37 chapters across Japan attended this event. The theme of the workshop was "Team Management".  These students are the leaders of chapters which consist of anywhere between 30 members to 250 + members, and, while daily struggling with the operation of the organizations, they strive to do what they can as Habitat campus chapters.
The workshop was divided into two big sessions.  The first session was devoted to learning management itself, under the agenda of: "What is the biggest social impact the campus chapters can make?"  Students inquired into such topics as: "What is our organizational goal?", "What are the tasks to achieve this goal?", or "What kind of human resources do we look for to implement strategies?", Goldman Sachs volunteers gave them advice.  The second session was devoted to "feedbacks".  As students normally had little chance to give or receive feedbacks, the volunteer members taught the students about the role that feedbacks play when it comes to improving the organization.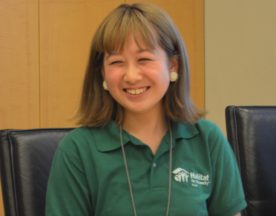 One of the participants, Yumi Asada, said: "As a president of campus chapter, I have been committed to running the organization while listening attentively to the voices of members.  However, I have had a concern that somehow I wasn't able to bring the group together.  I have learned a lot of things in this workshop, but above all, I learned the importance of holding and communicating one solid conviction.  I discussed with campus chapter members across Japan what I want to accomplish with them, as well as what contribution we can make as students, and I was able to convey my vision to the team members.  I learned a form of team management where you move forward by receiving feedbacks.  Thank you."
The student leaders of Habitat Japan lead groups of student volunteers who are committed to help people in the Asia Pacific region or in Japan who cannot live in decent homes due to poverty or natural disasters.  As currently more than 1,200 students work both within the country and abroad, it is essential that leaders educate and train new leaders to keep the projects ongoing.  We are grateful for Goldman Sachs, whose understanding towards this mission of training new leaders is greatly appreciated.