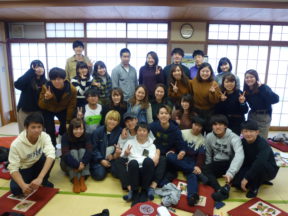 A group of students from our Campus chapters in Kanto region visited Fukushima prefecture for three days from March 1 st to 3 rd after seven years from the Great East Japan Earthquake. Shingo Okawa, a freshman at Shibaura Institute of Technology, joined the volunteer activity with a different thought from others. He was from Okuma in Fukushima and used to live there until the earthquake occurred when he was a sixth grader. The town of Okuma is designated by the government as an area where residents would not be able to return for more than 5 years due to Tepco's Fukushima Daiichi nuclear plant disaster. The town is surrounded by barricades and no one can enter unless with a special permission. Shingo decided to join the volunteering with his friends wishing to do something for Fukushima.
Graduation was just a few days ahead when Shingo, a six grader at the time, was on the way home with his friends at 2:46pm March 11 th when the earthquake occurred. "Sudden shaking struck us and streets were waving. We could not keep walking nor standing so we crouched down. A driver of a truck which happened to be there came out of the truck and covered us." He then walked to home and moved to Okuma General Gymnasium with his family for evacuation.
On March 12 th , the following day, his family finally got through to his grandfather who had lived in Tomioka, Fukushima by the phone. The family evacuated to Tomioka where they heard the hydrogen explosion of the Unit 1 of Fukushima Daiichi nuclear plant that occurred at 3:36pm on the day. "We suddenly heard a bomb-like sound. I was too young to understand that it was a nuclear plant accident but a fire engine came immediately after the sound telling us that it was dangerous to stay there and we had to run away because the nuclear plant exploded. So my family evacuated to a gymnasium in Kawauchi village next to Tomioka. It usually takes less than an hour but we got stuck in a massive traffic jam caused by all the town residents trying to evacuate so it took us hours to arrive Kawauchi. I remember that I took iodine tablets which were given to all evacuees with an instruction to take them to prevent radiation exposure."
After two to three days in Kawauchi, all evacuees were informed that they were no longer able to return to Tomioka. "We left my grandfather's home believing that we should be able to come back in a few days. We even left our dog at home. I'd never thought that we wouldn't be able to go back to my grandfather's home nor our home in Okuma when we first rushed out of Okuma," said Shingo. His family stayed with relatives Tokyo and Ibaraki and finally moved to Aizu Wakamatsu city in Fukushima where majority of people from Okuma chose to evacuate.
Shingo graduated junior high and high schools in Aizu Wakamatsu. He applied for temporary return to Okuma to go home in October 2017 for the first time after the earthquake. "I entered university last year and joined Habitat's Campus chapter where I experienced volunteering with my friends for the first time. I visited Sri Lanka last summer for construction volunteer activity and came to know many issues that I wouldn't have understood if I didn't see the situation firsthand. I wanted to go back to Okuma to see firsthand and tell people what I saw. I thought I should be the one to tell the world what is happening in Okuma right now." Shingo wanted to tell others that he can't take his current life for granted. "A student who came to Tokyo from other part of Japan like me would feel it's a normal thing to return to home for holidays. But it's not for me. I wanted tell everyone that you can take nothing for granted out of my experience," he said.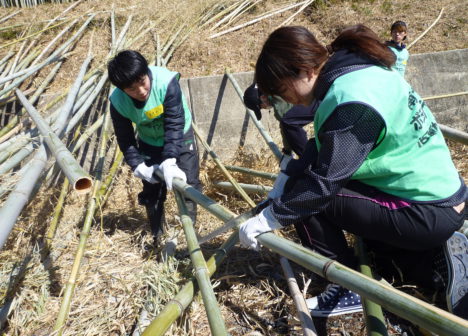 He told us that he met his friend who used to go to the same elementary school as him in Okuma for the first time after the earthquake through volunteering at campus chapter. He also said that meeting members of Campus chapters across Japan outside his university reminded him of appreciation towards people around him. "I wouldn't be the person I am today without my family who cared me and supported me to go to university. I'm also very happy and proud of Campus chapter members who come all over from Japan to do something for Fukushima although they had nothing to do with Fukushima in the past," he commented. He'll become a sophomore in April. He told us that he wants to be friendly to freshmen, like elder students were to him.