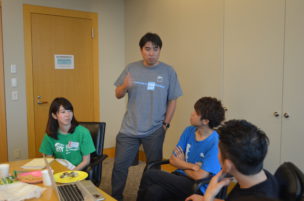 TOKYO (July 1, 2017) – Approximately 70 student leaders were encouraged to think outside the box when 15 Goldman Sachs employees shared their ideas and expertise at a workshop organized by Habitat for Humanity Japan. The student participants came from Habitat's campus chapters in Sapporo, Sendai, Tokyo, Nagoya, Osaka, Hiroshima and Fukuoka. Now in its fourth year, the workshop was conducted in partnership with Goldman Sachs as part of the firm's global volunteering program Community TeamWorks.  
Each Goldman Sachs volunteer partnered with five to six student leaders to brainstorm ideas for fundraising, branding and problem-solving.  Participants said the session was particularly useful because they could apply the lessons learned to make positive changes in their respective campus chapter and activities. 
Miho Watanabe, president of Kanda University of International Studies Campus Chapter, said:  "I had such a productive day with Goldman Sachs' professionals and the other campus chapter leaders. We discussed and evaluated the strengths and weaknesses of each campus chapter and identified what should be improved." She added: "Although we often have discussions regarding campus chapter operations and activities among the student leaders, it is always hard for us to reach a solution.  I am sure that the many insights and inspirations we gained from the workshop will help us to develop our volunteering, fundraising and other activities. Thank you very much for this wonderful learning opportunity." 
The one-day workshop is part of the Japan Campus Chapter Initiative 2017 which will culminate in an annual work camp in October with more than 300 campus chapter members undergoing two-day leadership training sessions.  Thanks to the Goldman Sachs Gives program, many student leaders from regions outside of Tokyo were able to attend the workshop and will be joining the upcoming work camp.