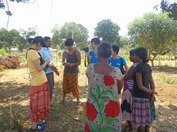 From July 2012 to March 2013, Habitat Japan worked with Habitat Sri Lanka to provide latrines and wells for the civil war displaced people returning to Sannar village in Mannar, Northern Sri Lanka. This March, Habitat Japan staff accompanied by SHANTI SHANTI AGU team returned to the village to monitor the progress since the project completion.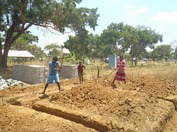 One year after the project completion, the village was well on its way to progress, as Habitat Sri Lanka continued its planned work to build 100 permanent houses in this village of 200 households. The people have returned from their evacuation in 2009, many are still living in the temporary shelters. In addition to the recommended duration of use being only two years, these shelters are deteriorating rapidly due to repeated heavy rain and wind as well as exposure to the strong sun and scorching heat. It was clear that durable permanent houses are in great need, and the team got to witness the local residents working toward it themselves.
* Home partners building foundation for a house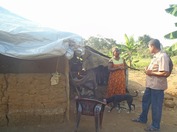 When Habitat Japan started this water and sanitation improvement project in 2012, securing permanent house was like dreams for the people of this village, simply because there were so few resource available for the people there. Ms. Vasanthamary, a member of a local women group WRDS and have involved herself actively in forming the community in this village, told us the transformation this village went through;
"Thanks to Habitat, people of Sannar village were able to secure land tenure. The following project lead to much needed latrines and improved sanitation for the whole village, and additional interventions by other aid organizations. Now that we have permanent houses the village is recognized as a permanent place for community; we have paved roads and the government have started to install electric poles. Though little at time, we are able to settle down and our lives are definitely transforming."
Habitat Japan is now looking into ways for further activities in Sannar.
From left: Deteriorating Shelter, Parmanent Housing, Newly Installed Electric Poles