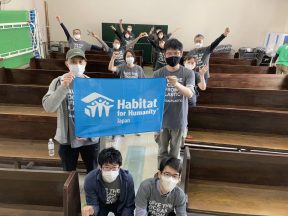 Habitat Japan is working with SC Johnson to support repairs at welfare facilities in Yokohama, Kanagawa Prefecture. One such facility is the Yokohama Kunmouin orphanage which accommodates 40 disabled children who range from preschoolers to high school students. Earlier this year, the bathrooms were repaired with SC Johnson's continued support.
On March 10, fourteen volunteers helped repair old benches in the orphanage's auditorium, which is a gathering place for the children. In addition, it is used for graduation ceremonies and various events by the Kunmou Gakuin School, which is located next door and serves blind and visually impaired children. The chapel-style benches were damaged by years of use but replacing them was too expensive for the orphanage to undertake. As a result, Habitat was consulted about repairing them instead.
The volunteers filled cracks in the benches with putty and then carefully sanded the surfaces so that the blind children, who need to feel them to move around, would not injure their hands. Once the preparations were complete, they were finished with a new coat of varnish. One of the participating volunteers said, "The benches were quite old, and we wondered to what extent we could repair them by ourselves, but when we finished, we were amazed at how well they turned out. I felt very happy when I imagined the children using the benches." Even the orphanage staff was surprised at how beautiful they looked.
This year, in addition to Yokohama Kunmouin, we repair the rooftop of the Asahi orphanage in Yokohama and a room at a shelter for single mothers in the city. With the support from SC Johnson, Habitat is able to help repair under-served facilities so that children and families can live safely and securely. Thank you to all the volunteers who are essential to these projects.
---
About SC Johnson
Founded in 1886 and headquartered in Racine, Wisconsin USA, SC Johnson believes that a more sustainable, healthier and transparent world that inspires people and creates opportunities isn't just possible – it's our responsibility.
A heritage of innovation and bold, transparent decisions is why our high-quality products and iconic brands – including Scrubbing Bubbles®, Kabikiller®, Pipe Unish®, Family Guard®, Glade®, Ecover®, and more – are in homes, schools and businesses in virtually every country worldwide.
As a global, purpose-led company, we are committed to making the world a better place today and for future generations. That means relentlessly bringing our expertise in science, innovation and partnerships to bear on some of the world's most pressing environmental and health issues like reducing plastic waste and eradicating malaria. Around the world, we use our resources to unlock greater economic and educational opportunities for people and communities where access may be limited, but curiosity and potential are limitless.