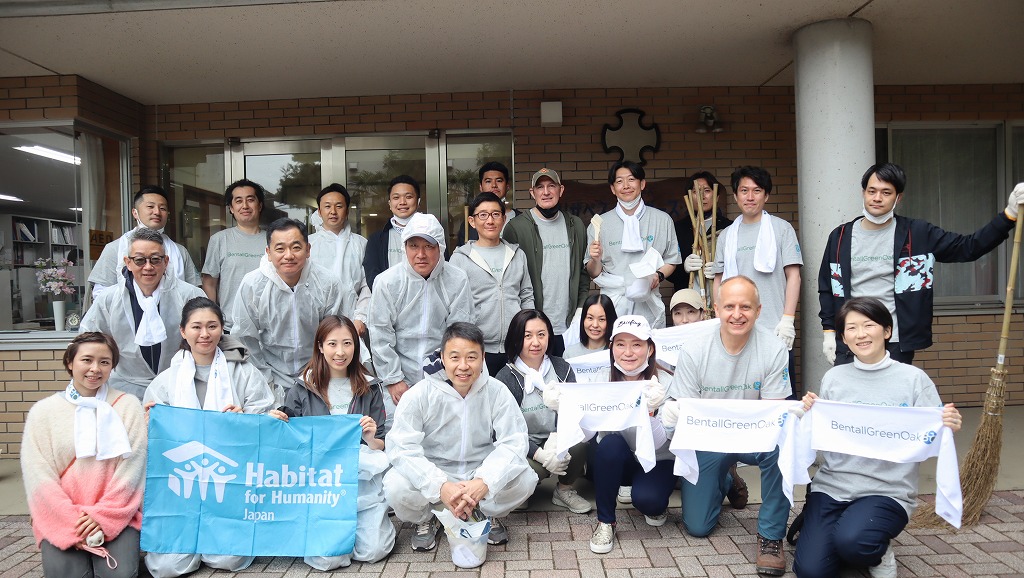 On Monday, April 18, twenty-four volunteers from BentallGreenOak Japan made repairs at the Elizabeth Saunders Home, an orphanage in Oiso, Kanagawa Prefecture. BentallGreenOak is a real estate investment company based in Canada, where it has been supporting Habitat since 2018.
The home was established as an orphanage in 1948 after World War II and accepts children aged two to eighteen years old who need protection and care. Due to its location in the mountains, the facility enjoys abundant greenery and extensive grounds that provide ample space for the children to exercise and play.
However, Mr. Yamada, the facility director, says, "we are having a hard time maintaining the facility," referring to the cost of tending to the trees and keeping the grounds clear of leaves. Unfortunately, the government does not subsidize such expenses.
Additionally, one of the dorm buildings is very old and designed with large communal rooms. To create more private space for each child, the facility installed temporary partitions to divide the rooms into smaller areas. Due to the necessary arrangement of the partitions, however, a power supply, windows, and well-positioned lighting were not available for each child. Furthermore, as a precaution against COVID, transparent plastic sheets were used to cover the open space above and below the partitions, but the sheets were easily damaged and needed frequent replacement.
To address the Home's needs, Habitat has collaborated with architects and facility staff to design improvements and has begun to raise funds for the project. BentallGreenOak Japan has partnered with Habitat to provide financial support and volunteers to help paint the fence around the property and clean the roofs and gutters of leaves. Daniel Klebes, CEO of the company, says, "It was a pleasure to participate in this hands-on volunteer work that contributes to the community. "
Habitat's mission is to bring people together to build homes, communities, and hope.  Thank you to BentallGreenOak Japan for your support for the Elizabeth Saunders Home repairs, which will make it a better place for the children to live.