How to Share Your Workout Record with Others

We recommend the STRAVA app for the event. This platform allows you to use your phone or GPS device to record your activity and share it with Habitat, other Home Run 2021 participants, and friends and followers around the world. To see whether your GPS device or activity app is compatible with STRAVA, please click here. 

How to Use STRAVA
STEP 1: Create an Account
There are three ways you can create an account:
       1. Sign up on the Strava site on your computer at this link.
       2. For iPhones, download the app from the Apple App Store.
       3. For Android phones, download the app from the Google Play App Store.
You do not need to subscribe or start a free trial to use STRAVA. The functions available will provide the data required for the event. 
STEP 2:  Join the Habitat Club on STRAVA
After you register, you can join the Habitat Japan club by clicking here. From the club page, send a request to join. Once accepted, you can begin adding data from your runs. 
STEP 3: Create your Privacy Zone 
In order to protect your privacy, you can create a privacy zone that will hide your location at the beginning and end of your runs. Click here for instructions on how to set privacy zones up before using the STRAVA app.
STEP 4:  Record your Activities through GPS
Record and automatically upload your workouts using the STRAVA app on a compatible GPS device or your mobile phone. Click here for compatibility informatoin. If your device or app is not compatible, please send your activity data to Habitat at info@habitatjp.org by April 23, 2021.
Before you start recording your workout using STRAVA, please make sure to select "RUN" as the activity even if you are walking. "WALK" as an activity cannot be reflected on the Habitat Club page, and therefore can't be added to any of the statistics on the event page.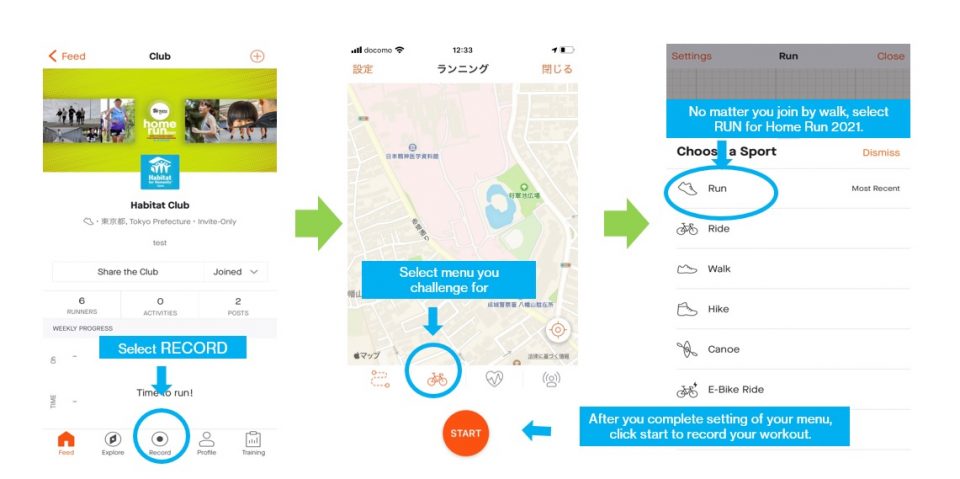 STEP 5: Share your Progress on Social Media
We encourage you to share the Home Run 2021 event and your achievements on social apps like Facebook, Instagram, and Twitter. Click here to learn to connect your data to social media.
Share Your Workouts with Others!
Run and Walk to Improve Living Conditions of Orphanages in the Tokyo Region