※Volunteer recruitment has been closed.
[Habitat Japan volunteer program resuming!]
Due to the COVID-19 pandemic, all the volunteer programs have been suspended since this February but Habitat Japan is resuming the local volunteer program, Project HomeWorks to help those vulnerable people in need of decent homes.
Anyone who agrees with the following details and guidelines can join Habitat Japan volunteer program on October 29 (Thursday). Please sign up on the application form below.
---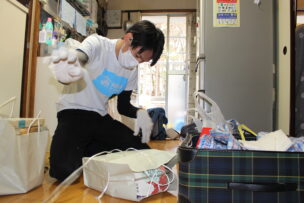 Project HomeWorks is a program in Tokyo to support senior citizens, persons with a disability, low-income families/individuals, single-parent families, and other vulnerable people to improve their living conditions with volunteers. Many elderly and persons with disabilities face difficulties in keeping their home environment tidy and sanitary due to their physical limitations.
For many families, those who were already struggling with a need for decent and affordable housing, their daily lives have only become more challenging due to the COVID-19 pandemic. These are the families who now more than ever need the hand up that we can provide. 
Habitat volunteers help improve the living conditions of vulnerable households by cleaning and minor repair works while communicating with them. Now more than ever, Habitat's work is critical to provide a decent place to live for anyone, everyone. 
Join us as a Project HomeWorks Volunteer!
---
Volunteer program details  
[Volunteer Criteria]
Anyone who agrees to and signs the volunteer consent, aged 15 years old or above (Jr. high school students are not included)
 [When to meet]
October 29, Thursday 9:30 am
※The worksite will be informed after your sign-up. 
[Participation fee]
Participation Fee:JPY1,000 (except  for the current campus chapter members)
(including your insurance, equipment & supplies and donation to this program)
※Please bring the exact change
[Schedule (TBD)]
09:30 Meet at a station near work sites (Most likely be Shinjuku area)
10:00 Volunteer start 
12:00 Finish the work
By 12:30 End of the program
[Activity details]
Cleanups for an elderly woman in need of a decent and healthier place to live
[Volunteer insurance]
Since Habitat Japan has subscribed to volunteer insurance, everyone who participates in the activity is covered by this insurance. This fee is included in your participation fee. In order to cover with insurance, please be sure to enter your name, address, contact address, in the application form below. 
[Attire]
A mask (mandatory)
Casual clothing you don't mind getting dirty (long sleeves and pants recommended), closed-toed footwear with socks on
[Items to bring]
Caps/towels to protect your head 
Gloves
Spare clothes and masks (optional)
Water (You may need at least one 500ml bottle of water)
a small carry-on bags or a backpack to keep your valuables with you

Your signed volunteer consent

. Please download the consent here. (*For minors aged 15 to 18 in high school your parent or guardian's signature on your waiver is required to join.)
---
Volunteer Guidelines
The volunteers must sign the volunteer consent to join Habitat Japan volunteer activities.
The volunteers must be 15 years old or above. If volunteers are high school students (aged 15 to 18), each volunteer must agree to join the volunteer activities with his/her parent or guardian's signed agreement on the volunteer consent.
The volunteers are advised to follow the corporate/school guidelines of each volunteer belongs to if those guidelines restrict for them to join any social activities including Habitat Japan volunteer.
The volunteers must communicate with their family members and housemates to live with to ask for their understanding for him/her to join Habitat Japan volunteer activities.
Have you been in close in-person contact with a confirmed COVID-19 patient in the past 14 days? If so, the volunteer cannot join Habitat activities.
Have you or anyone you live with, arrived in Japan from overseas in the past 14 days? If so, the volunteer cannot join Habitat activities.
The volunteers measure his/her temperature before visiting the worksite and if a fever (37.5°C or above) is measured, that volunteer must not visit any place to work.
The volunteers wear a face mask during the activities.
When we receive more applications than expected, we might not be able to make a slot for you. 
---
Volunteer sign up!
If you agree to all the volunteer details and guidelines above please sign up for the volunteer application below.
※Volunteer recruitment has been closed.