※Volunteer recruitment has been closed.
Habitat Japan Project HomeWorks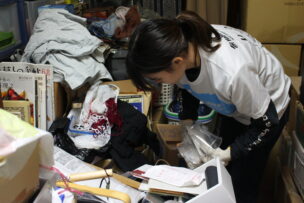 Project HomeWorks is a program in Tokyo to support senior citizens, persons with a disability, low-income families/individuals, and other vulnerable people to improve their living conditions with volunteers. Many elderly and persons with disability face difficulties in keeping their home environment tidy and sanitary due to their physical limitations. Please join our work on the open volunteer day on January 11th, 2020!!
[Participation condition]
Anyone aged above 15 years old who have graduated from junior high school can join. 
[Participation Fee]
¥1,000 per volunteer except current campus chapter members
(including your insurance, equipment & supplies and donation to this project)
※Please bring the exact amount
[Schedule (TBD)]
10:00 Meet at a station near work sites (Most likely be Shinjuku or Nakano area)
10:30 Volunteer start
12:30 Stop the work
13:00 End of volunteer
*Recently Habitat is receiving many cleaning requests not only from Shinjuku ward but also from Taito ward. We will consult with home partners when to visit and will inform you where to work around a week prior to the actual volunteering date.
[Activity]
Cleanups for those in need of healthier housing environment
[Volunteer Insurance]
Since Habitat Japan has subscribed to volunteer insurance, everyone who participates in the activity is covered by this insurance. This fee is included in your participation fee. In order to cover with insurance, please be sure to enter your name, address, contact address, in the application form below.
[Attire]
Casual clothing you don't mind getting dirty, and sturdy (long sleeves and pants recommended), closed-toed footwear with socks on.
(Please change your clothes before coming to the place to meet)
[Items to bring]
- Face towel
- Masks
- Work Gloves
- Clothes to change after volunteer (strongly recommended)
- Water (You may need at least one 500ml bottle of water)
- a Small carry-on bags or a jacket with pockets to keep your valuables with you. Please leave unnecessary valuables at home.
- Signed Waiver Form. Please download waiver form here. For minors, aged 15 to 18 in high school your parent or guardian's signature on your waiver is required to join.
---
【Sign-up here!】
※Volunteer recruitment has been closed.