**female volunteers only
【We recruiting volunteers!】
If you would like to participate in this volunteer program, please note the details and precautions below.
---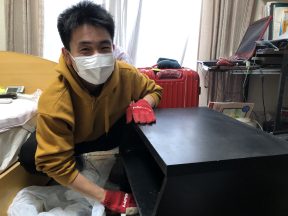 Habitat Japan's Project HomeWorks (PHW), a domestic housing support program to help the vulnerable populations in Tokyo by upgrading their living environments. 
In our neighborhood, there are people who have difficulty in cleaning up by themselves. For example, due to old age or disabilities, it is difficult for them to clean up their rooms, sometimes resulting in poor hygiene. Some also find difficulty in moving heavy items,  and those make it difficult for them to live.In our activities, we visit homes and talk with our beneficiaries in need of a decent place to live, helping them with necessary cleaning and moving heavy items.
---
Details of volunteer activities  
【Requirement to join】
The minimum age for volunteers is 18 years old on the date of the session and volunteers must agree to Habitat Japan's "Release and Waiver of Liability" , "Safeguarding" and submit the virtually signed waiver by email prior to the volunteer session day. 
**female volunteers only

【Time to meet】
Monday, June 12, 2023, 10:15 a.m.
*For the protection of our beneficiary's personal information, we will inform you of the meeting place after your application by email.
【Participation Fee】
¥1,000 (excluding the current Habitat Japan campus chapter members)
*The fee will be used to pay for your volunteer insurance, to provide you with the necessary tools and gears for the activity, and also as a donation to continue the program
*Please be prepared to pay the participation fee with no change.
【Schedule (tentative)】
10:15 Gather in a meeting spot(Shinjuku area)
10:30 Start of volunteer session
12:30 Stop the activity
Leave the work site by 13:00
【What we help】
Cleanups for a woman with a disability  in need of a decent and healthier place to live in Shinjuku-ku
【About the volunteer insurance】
Habitat Japan has a volunteer insurance policy that covers everyone who participates in our activities. There is no extra charge for volunteers. In order to be covered by the insurance, please make sure to enter your name, address, and contact information in the application form below. For more information about the insurance, please click HERE.
【Attire】
Mask required
Comfortable clothes that you don't mind getting dirty (please wear long sleeves, long pants, sneakers, and socks)
Wear comfortable clothes that you don't mind getting dirty (long sleeves, long pants, sneakers, and socks)
【What to bring】
Towel, hand towel, or hat to wear on your head (because it's dusty)
mask
Gloves
A change of clothes or a replacement mask (optional)
Drinking water (standard: one 500ml bottle)
A backpack or small bag to carry your valuables in.
---
Precautions for participating in volunteer activities    
All volunteers, without exception, must review, sign, and submit the

 

Volunteer Release and Waiver Form

 

and

 

"Safeguarding"

 

prior to participating in any activity.
All volunteers must be over 18 years old. 
Volunteers must abide by the guidelines of schools, organizations, companies, etc. to which they belong, and refrain from participating in our volunteer activities if they do not comply with those guidelines.
Volunteers who have a fever of 37.5°C or higher on the day of volunteering, or who have symptoms of suspected COVID infection will not be allowed to participate.
Please wear a mask all the time during the volunteer activities 
Please note that the number of volunteers is limited and we may not be able to meet your request.
There is a possibility that activities may be suddenly changed or canceled due to the sudden illness of the beneficiaries. Please note that in some cases, we may only be able to notify you of the cancellation on the day of the activity.
---
Volunteer Sign-up Form
If you are interested in joining our volunteer activities after reading and agreeing to the above details and precautions, please apply using the form below.
Male or Female



Date of Birth
(YYYY/MM/DD)






Zip


Campus chapters
*Only for CC members
Allergy/chronic diseases
Emergency contact name
Relationship with emergency contacts
Emergenct contact no.