September 8: Bloomberg Volunteer Session
Thank you for joining Habitat for Humanity Japan volunteer on September 8.
Here are the details of our volunteer and also your personal info signing up for your volunteer insurance.
Habitat is currently implementing volunteer activities while taking COVID-19 prevention measures. Please kindly note that you are required to read and agree to our volunteer guidelines and waiver and written oath(pages 1 to 7) before signing up.
Please send the waiver and written oath to Ms. Fiona Kim.
Waiver submission is due by August 31 for the volunteers on September 8.
---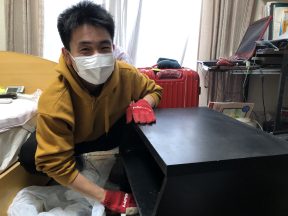 Habitat Japan's Project HomeWorks (PHW), is a domestic housing support program to help the vulnerable populations in Tokyo by upgrading their living environments. 
In our neighborhood, there are people who have difficulty cleaning up by themselves. For example, due to old age or disabilities, it is difficult for them to clean up their rooms, sometimes resulting in poor hygiene. Some also find difficulty in moving heavy items,  and those make it difficult for them to live. In addition, now that the pandemic affects many people's lives so improving the living environment can help prevent infectious diseases. In our activities, we visit homes and talk with our beneficiaries in need of a decent place to live, helping them with necessary cleaning and moving heavy items.
---
Details of volunteer activities  
【Requirement to join】
The minimum age for volunteers is 18 years old on the date of the session and volunteers must agree to Habitat Japan's"Release and Waiver of Liability" and submit the virtually signed waiver by email prior to the volunteer session day and submit the"Health Declaration Form" on the day of activities.
【Time to meet】
Thursday, September 8, 2022, 14:30 p.m.
*For the protection of our beneficiary's personal information, we will inform you of the meeting place after your application by email.
【Schedule】
14:30 Gather in a meeting spot(Shinguku area)
14:45 Start of volunteer session
16:45 Stop the activity
Leave the work site by 17:15
【What we help】
Cleaning the home of a family whose parents are mentally disabled.
【About the volunteer insurance】
Habitat Japan has a volunteer insurance policy that covers everyone who participates in our activities. There is no extra charge for volunteers. In order to be covered by the insurance, please make sure to enter your name, address, and contact information in the application form below. For more information about the insurance, please click HERE.
【Attire】
Mask required
Comfortable clothes that you don't mind getting dirty (please wear long sleeves, long pants, sneakers, and socks)
Wear comfortable clothes that you don't mind getting dirty (long sleeves, long pants, sneakers, and socks)
【Items to bring】
Towel, hand towel, or hat to wear on your head (because it's dusty)
A change of clothes or a replacement mask (optional)
Drinking water (standard: one 500ml bottle)
A backpack or small bag to carry your valuables in.
Please submit the completed

 

Health Declaration(page 8)on the morning of the activity.
---
Volunteer Sign-up Form
If you are joining our volunteer session, please fill out the form below and provide the necessary information. Please note that this information will only be used for insurance and emergency purposes.
ローマ字姓
(例:Suzuki)
※半角英数字
ローマ字名
(例:Taro)
※半角英数字
性別/MorF



生年月日
(例:1980/08/29)
※半角英数字
郵便番号/Zip code
※半角英数字

(例:123-4567)







アレルギーや持病等
/Allergy, any chronic disease
DONATE
体力や時間はないけど活動を支援したい!その気持ちを形にしませんか?
みなさまのご支援は「誰もがきちんとした場所で暮らせる世界」実現のために使わせていただきます。
メールマガジン登録
ハビタット・ジャパンの月刊メールマガジン「ハビタット・アップデート」を無料配信しています。新着情報やイベント情報、活動報告やボランティア・インターン募集案内、そしてスタッフ・ボランティアによるコラムなどなど、いち早く配信!まずはご登録を!!